Pasifik Asia Niaga established in Jakarta on November 4th, 2013 based on notarial deed no. 04 made by a notary H.Yulizar Azhar, SH., M.Kn and obtain authorization from the ministry of law and human rights by Decree No. AHU-0121555.AH.01.09 on 18 December 2013, by two brothers Achmad Fadhiel and Achmad Gaddafi in order to capture market opportunities asia pacific trade continues to increase, especially the ASEAN markets, Australia and New Zealand.
With the philosophy
"people do not care how much you know, until they know how much you care about them,"
We are committed to always providing the best services and products to our customers.
Best regards,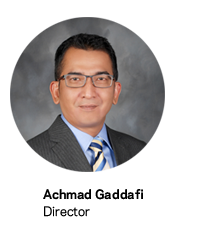 Company's Vision
To be a world-class trading and industrial company that grows and sustainable in the field of livestock management, food, electrical equipment, energy, and fertilizer as well as providing other merchandise with rigorous satisfaction and continous improvement
Company's Missions
Increase the happiness of planters by providing appropriate fertilizer
Play an active role in enhancing international trade volume between Indonesia with other ASEAN countries, australia and new zealand
Enhance the ability of the livestock industry, food, electrical equipment, agriculture and energy in Indonesia with modern technology
Develop primary industry, sector management in livestock, food, electrical equipment, agriculture and energy
Develop the ability of Indonesian breeders by using animal management system
Reduce and eliminate animal and human mortality in human and wild animal conflicts
Improve human resouces competencies by creating a good work environment
Maximizing the value to the stakeholders of the company
Fulfill the dream of the farmers and workers to be able to breed effectively in terms of time and costs as well as working with a safe and healthy
Providing high-quality goods in the sectors of the livestock industry and personal protective equipment
Building industry development program under palm breeding program such as cattle, feedlots, and slaughterhouses according to international standards
Build power equipment factory in order to import substitution
Milestone and achievement

2014
Signing with Gallagher Group Limited, New Zealand, to be an Authorized Sole Distributor of  Gallagher animal management system products
2015
Became Authorized Dealer for NOVAX Products of GB Industries SDN BHD Malaysia and cooperate with Tekmedic Malaysia to become a Distributor of latex gloves, Best Tax Payment Award from Cempaka Putih Tax Office for 2015 Tax Year

2016
Collaboration with ZeeTags to become an Authorized Distributor for livestock identification system, Signing with Jackson Electrical New Zealand to be Authorized Distributor for Electric Panel and Electric Equipment